What if I told you I found the best money-making internet tool that will save your marriage overnight while also cooking you a steak dinner? Well, depending on who you ask, ClickFunnels is a landing page builder that does just that.
If you are a business owner or have been in the world of digital marketing, you might've heard of ClickFunnels. Their relentless pursuit of customers ensures that if you express any interest, you'll be hearing from them on social media for the next several months (and probably a bit after that).
With this in mind, ClickFunnels has a bit of a personality and reputation among marketing tools. Whether you love them or hate them, there's no doubt that they are doing something right. After all, having over 350 thousand followers on Facebook that behave like raving fans isn't a bad thing when you want to make money.
But, like most business owners, you might get awfully suspicious about these raving fans. After all, the fans of ClickFunnels can feel somewhat cult-like in their ravings.
So, instead of falling into one of these inescapable funnels, let's inspect the software behind the madness. In this ClickFunnels review, you'll get an unbiased source of information that focuses purely on what this tool does.
What is ClickFunnels?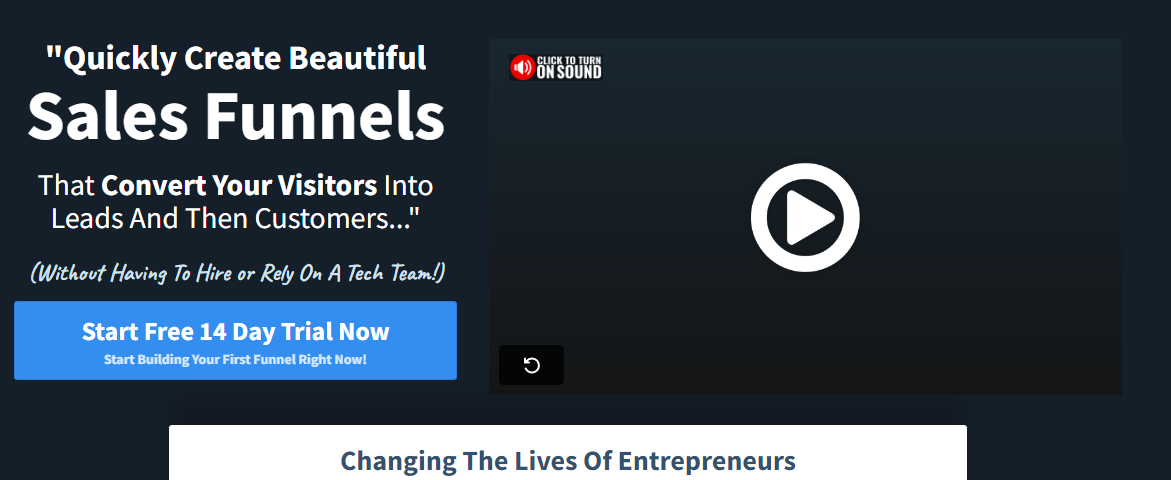 ClickFunnels is a funnel building tool. Funnels are like multi-step landing pages trying to guide users down a specific action. So, you can consider it a landing page builder with multiple phases alongside a customer relationship management (CRM) platform.
A funnel builder can be a great tool if you have a very specific purpose behind your webpage. It prevents people from being distracted by other products and services. After all, confusing your customer is a good way to keep them from buying.
Because of this focus, ClickFunnels is one of the more popular SaaS (subscription as a service) marketing tools. After all, everyone wants to make money.
The man behind this is Russell Brunson, who has spent the past 20 years building a reputation. He's known for three fairly popular books; DotCom Secrets, Traffic Secrets, and Expert Secrets. Russell is just as well known as his product, with high marks across the board on all of his books.
Note this for later, as you'll notice consistent marketing tactics across both his personal website and the ClickFunnels' site. Russel Brunson's advertisement style dives hard into "hypebeast mode." This means the company promises big things, which leads us to the next question.
Is ClickFunnels Legit?
Because ClickFunnels promises a lot and uses strong marketing language, a lot of language makes people wonder if the software is legit. To make a long story short, ClickFunnels is a completely legitimate software with over 100 thousand users.
Much like any other software, simply buying it won't give you $100 thousand a minute. While ClickFunnel's claims never get that ridiculous, they make some pretty big promises.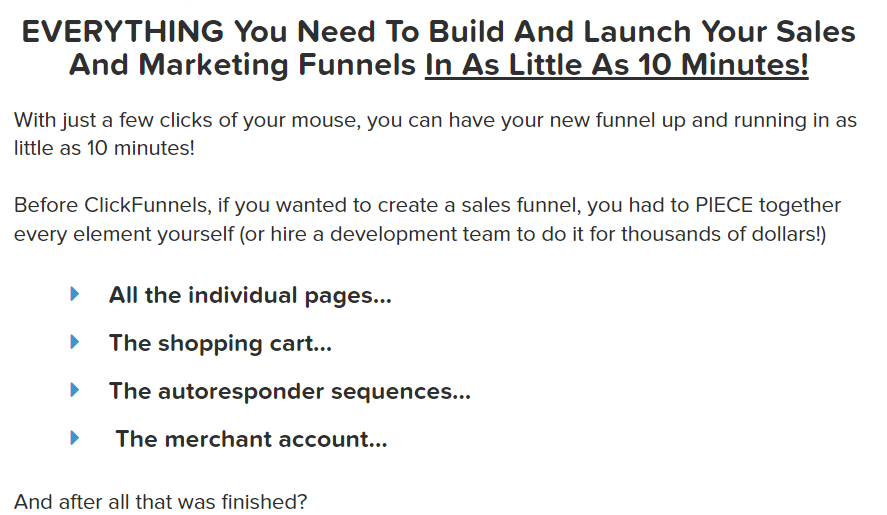 Despite what this might make you think, many of these marketers spend years in trial and error doing this stuff. They might've used some tools to make it easier, but no one tool is going to be the different maker.
There are many important things to learn, like what your customers want, their pain points, and how to display it in such a way that appeals to your target audience. While it's clear Russell Brunson has put a lot of effort into this, it's important to check the hype.
Don't feel too pressured to get into something just because you see someone raving about it online. Instead, we hope this ClickFunnels review helps you make a more informed decision.
ClickFunnels Pros and Cons
Overall, our review shows that ClickFunnels has some good points and bad points. At times, the system can be slow and unstable. However, these situations are not too common.
| Pros | Cons |
| --- | --- |
| 14-Day Free Trial | Expensive by Comparison |
| 30-Day Refund Policy | Pushy Sales Practices |
| Robust Landing Page Builder | Has Minor Stability Issues |
| Tons of Integration Features | Some Builder Elements Too Close Together |
| Great Analytics Dashboard | Slow Loading With Too Many Elements |
| Useful Educational Resources | |
| Funnel Marketplace (Outsourcing Platform) | |
| ClickFunnels WordPress Plugin | |
| Active Developers | |
ClickFunnels Pricing and Plans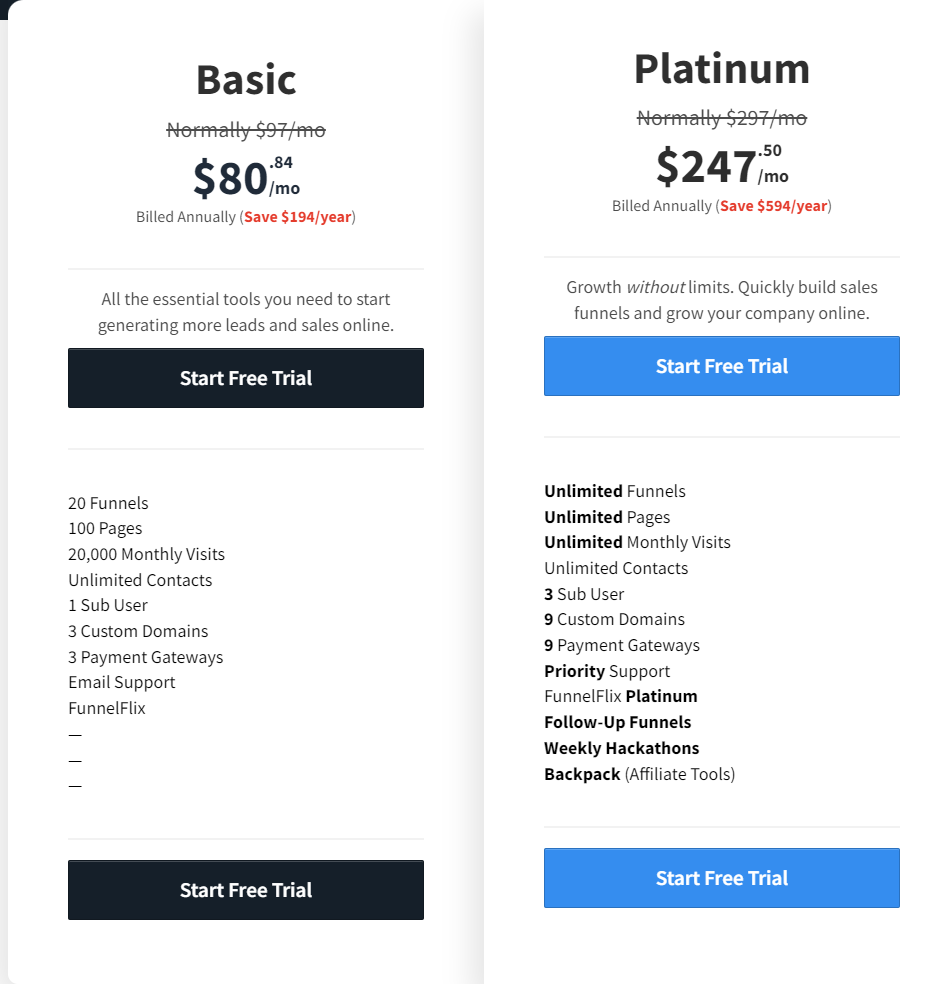 ClickFunnels likes to keep things simple with two major plans: the basic plan and the platinum plan. Either way, both plans allow you to take advantage of a 14-day free trial.
What comes with the basic plan?
The basic plan costs $97 per month if you choose to pay monthly. Alternatively, you can choose to pay $70 per month if you pay for an entire year upfront. Below is a general review of what you get with the package:
Up to 20 funnels with up to 100 pages between them
Up to 20 thousand monthly visits
Unlimited contacts (for their CRM)
One sub user (if you have staff)
Three custom domains
Three payment gateways
Email support
FunnelFlix (like "Netflix" for people who want marketing information)
What comes with the platinum plan?
With a name like platinum, you expect some big things. You'll also be paying for big things, as it costs $297 per month ($247 per month if you pay annually). Here's what you get:
Unlimited funnels, pages, contacts, and monthly visits
Three sub users
Nine custom domains and payment gateways
Priority support
FunnelFlix platinum (more videos)
Follow-Up funnels (sends follow-ups to members of your mailing list depending on what actions they take)
Weekly Hackathons (meetings looking into fellow funnels with other subscribers)
Backpack (built-in affiliate tools)
Why is ClickFunnels so expensive?
Simply put: ClickFunnels is easily one of the most expensive landing page builders you can get your hands on. However, ClickFunnels isn't just a builder for landing pages, it works as a full customer management platform. As you read our review, you'll see how those features work together.
If you are just starting up, we can't recommend ClickFunnels Platinum. As a solopreneur, you won't need that many funnels and pages.
Signing up for ClickFunnels

To signup, click the "try for free" button in the upper-right corner. From there, you'll need to enter some basic information (including payment details) to get started.
It's important to note that when signing up, ClickFunnels doesn't give you the option to choose your plan. Instead, it signs you up for the $297, which it won't charge you for right away.
To switch it to the starter plan, go to account settings (found underneath your name), click on account billing on the left-hand navigation bar, and scroll down to select "choose another plan."

Before all this, you'll be offered a $100 add-on, which is a habit you'll fine across Russell Brunson's marketing strategies. They go hard for the upsell, promising $3500 worth of things for the (comparatively) measly price of $100.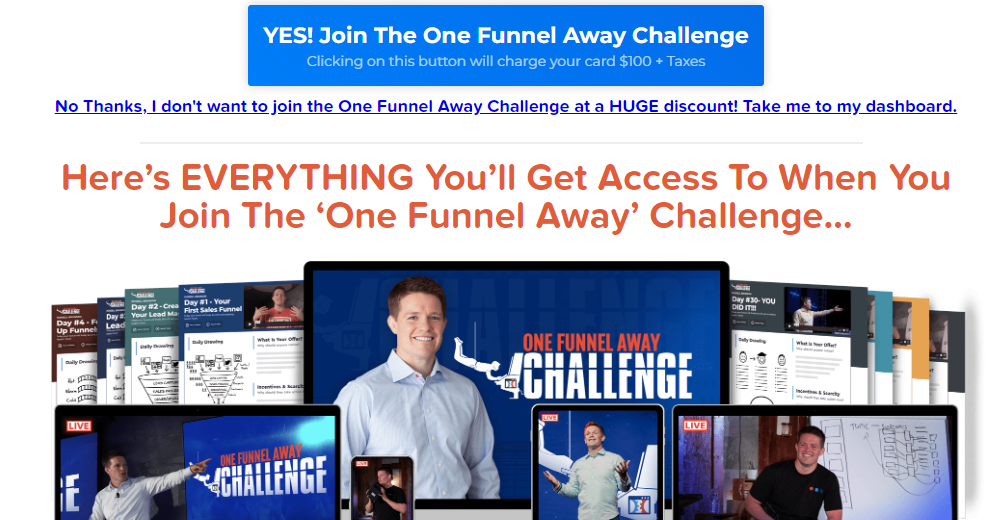 This is part of why people dislike ClickFunnels, as their advertisement methods are incredibly pushy. Of course, we won't be reviewing the challenge, so for the purpose of our look, we are declining this.
After accepting or declining this feature, you'll eventually reach the ClickFunnels dashboard.
Navigating the ClickFunnels Dashboard

The ClickFunnels dashboard takes away the more obnoxious parts of the prior site. Instead, you get a clean crisp interface throughout, which is ideal if you want to focus on work. With this in mind, it is easy to navigate between different areas of the dashboard.
The top-facing navigation bar has the majority of your tools. The "ClickFunnels" link from above has your current funnels, contacts, sales, and a link to the funnel builder. You will also get access to the funnel marketplace, which is where you can shop for templates.
Follow-Up funnels has much of the same thing, only they are for contacts you've already gotten through funnel #1. With these, you can send them more messages to sweeten the deal and make it more appealing or ask them why they didn't click your links.
"Backpack," which is just to the right of follow-up funnels, is where you can setup an affiliate program. This way, you can pay people commissions for advertising your product or service, which is pretty handy.
If you only pay for the starter plan, you'll find yourself only using the first of these navigation bars. With this in mind, if you only use ClickFunnels for the opening, there's nothing saying you can't lead your new customers to your full web page.
When you scroll, the page will provide you with statistics and links to their learning-based content. You'll also notice a third, greyed-out program on the left known as 2CCX, better known as the "two comma club." This is an exclusive "club" for entrepreneurs who have grown their business beyond to seven figures (one million or more). It's currently closed and only available by invitation.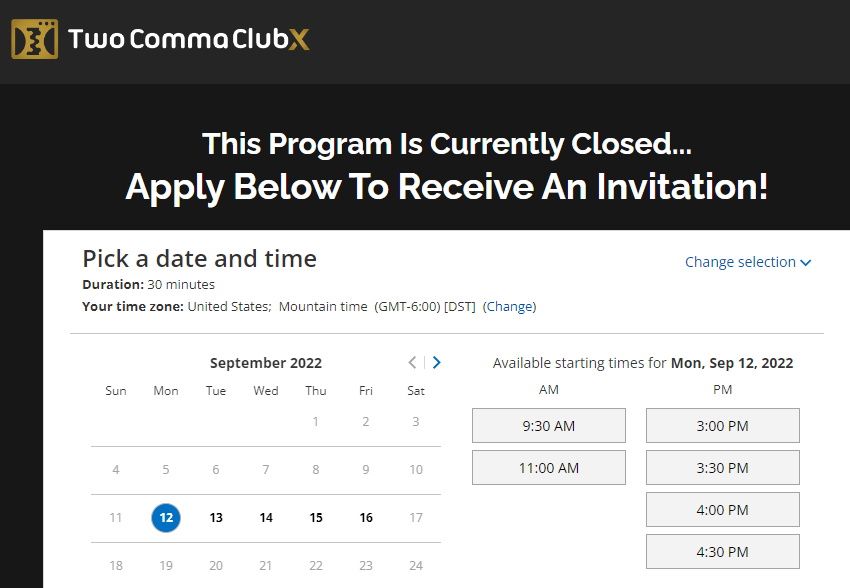 ClickFunnels Features: How To Create Your Funnel
Below, we are going to inspect the various features that they offer. This includes looking at their main offering: the funnel builder. We will also take an overall look at their marketing and sales funnel tools.
Building your first funnel – beginning steps
In this ClickFunnels review, the "bread and butter" comes back to the funnel builder. Whether you want emails, sales, or someone to go to your webinar, ClickFunnels can help you out.
To start from the dashboard, you can click on "build funnel," which you can find under the ClickFunnels menu on top. From there, you'll be given one of three options:
Collect emails
Sell your product
Host webinar

You can also choose to browse the funnel marketplace or create a custom funnel. To keep things simple, let's assume I'm gathering emails for my newsletter.
The next page asks you to enter a name for the funnel and a group tag. You can use tags to sort your funnels, which makes them easy to identify when running multiple businesses. Clicking the next "build funnel" button will bring you to a series of templates.
Those who saw our HubSpot landing page builder review know that we complained about the lack of variety. By comparison, ClickFunnels knows that landing pages are the centerpiece of its offering. So, there are way more options compared to most competitors.
Going through your funnel steps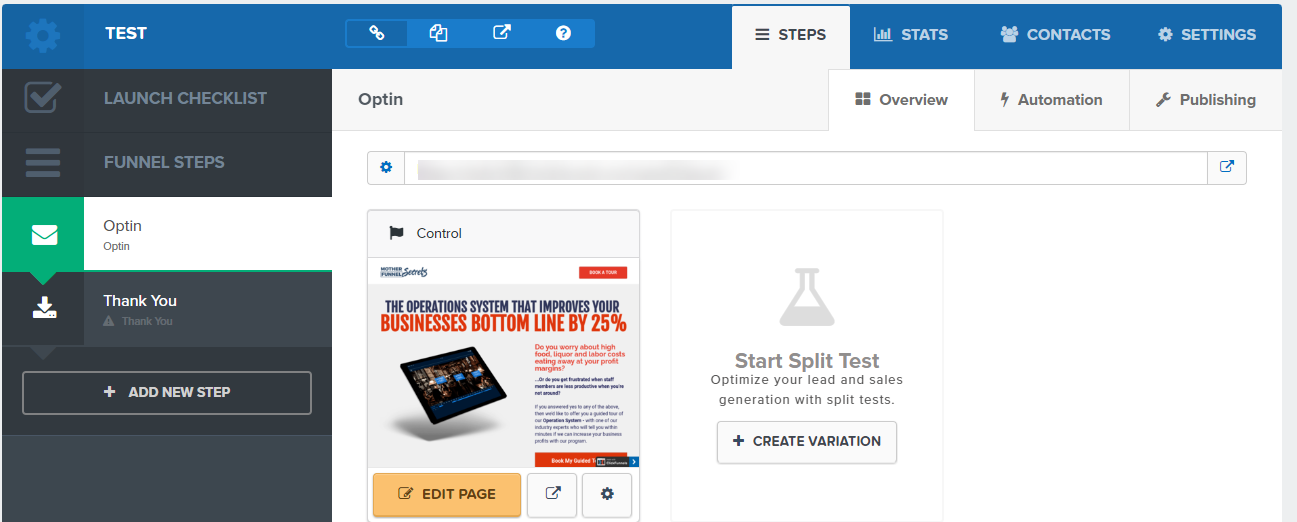 ClickFunnels provide a simple interface whether you want to build sales funnels or otherwise. It breaks down each funnel into steps, allowing you to add or remove steps as needed.
Clicking the "add new step" button will add another phase to your funnels. This feature is ideal if you are a business who sells a product with multiple add-ons. Clicking on the next step will bring up the same interface, allowing you to select a funnel template and edit it as needed.
If you decide you need a new opening step, you can use the drag-and-drop interface to switch your step order. The interface is painfully easy and has a powerful visual element, making it a great way for an owner to change to an online business model quickly.
ClickFunnels A/B testing features
Clicking the "create variation" allows you to take part in A/B testing. You can control the amount of traffic each variation gets, allowing you to declare a winner based on which gets the most results.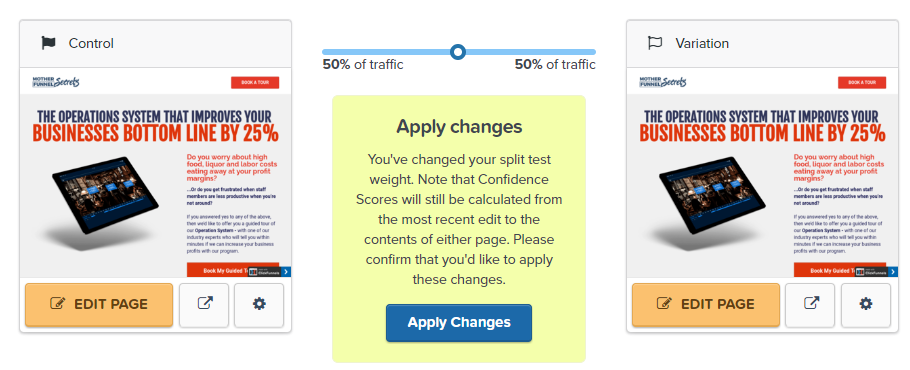 When testing, it's recommended you make small tweaks between each page. Small tweaks will allow you to identify what makes the best subscription or sales pages.
Using the ClickFunnels drag-and-drop page builder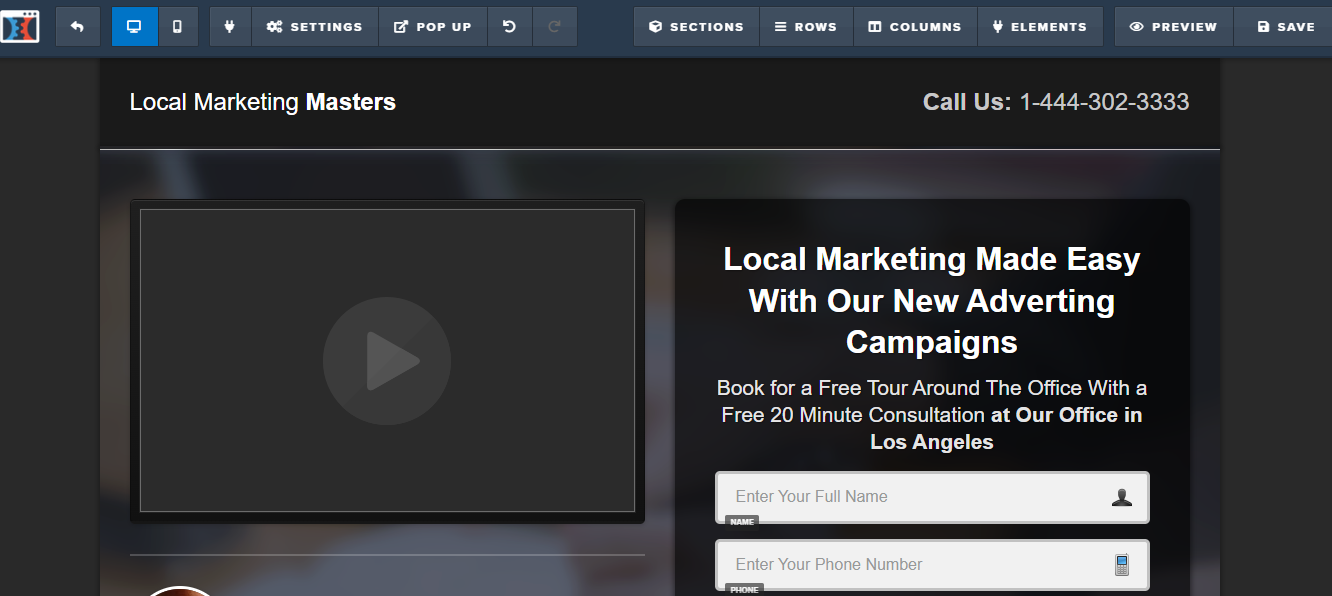 If you've seen our reviews of both Sendinblue and HubSpot, you already know that they tend to go with the split screen approach. Half the screen holds the tools while the other half holds the page. ClickFunnels takes a different approach, limiting most of your editing tools to the top half of the screen.
This feature is great, because you get a clear idea of what the customer looks at when viewing your funnel. You can even switch between desktop and mobile views. However, it also makes it a bit harder to grasp where everything is, as your tools aren't in the most obvious place.
Editing page themes
As you move your mouse around the screen, you'll notice boxes appear around different elements. Typically, clicking those boxes will pull up a menu for editing.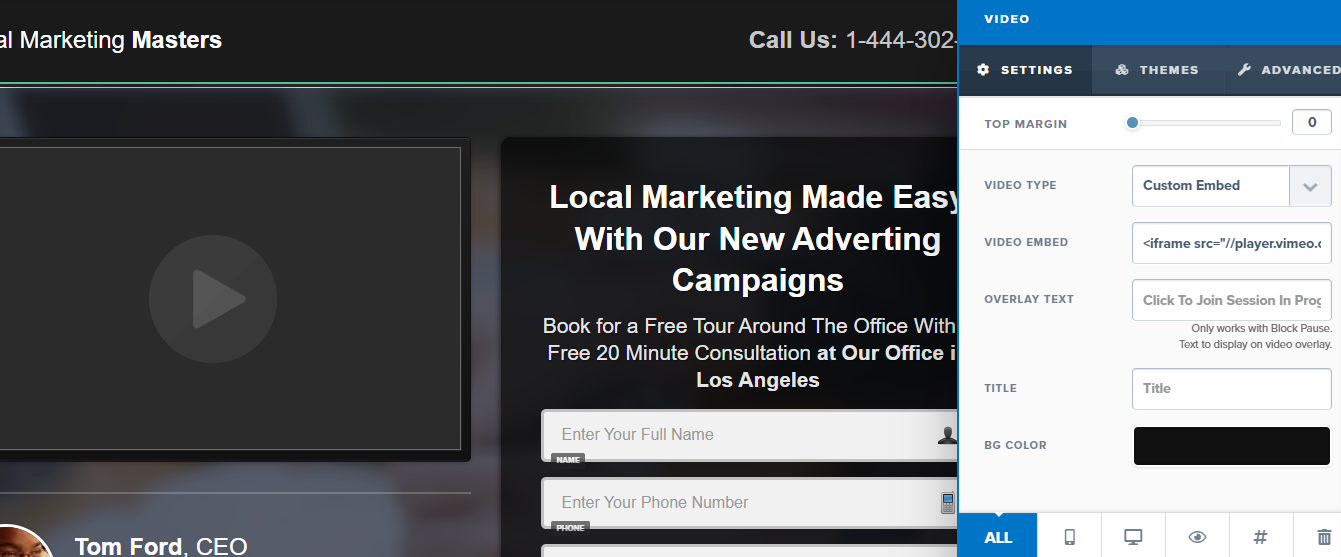 The menu will pull up different adjustable elements. For example, if you click the video (seen above), you'll be able to control the video type, input a custom embed, choose a title, and select a background color (for the frame around the video).
Another example of this in action is click the form. You can control elements of the font, how that differs on the mobile text, the input type (first name, last name, etc.), and whether (or not) the form is required to proceed.
For those who don't care to spend too much time on design, you can also look through the next tab. Themes provides you with a handful of default designs. Meanwhile, the advanced tab allows you to control more design elements that aren't quite as common
Text editing using ClickFunnels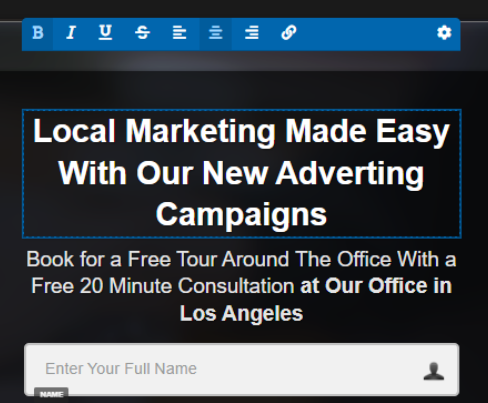 Clicking on any text using the ClickFunnels editor will pull up a familiar text editing tool. You can easily remove and add text by simply clicking. You can also adjust the alignment, add a link, and add simple features through this one-click menu.
The gear on the upper right will pull up a menu with a bit more control, pulling up the same right-hand menu. This menu allows you to control font features, the background color, and the icon color.
Those who like customization in their fonts will find literally hundreds of options. You can also see font previews before marrying yourself to a single option.

Using the drag-and-drop editor
As you move the mouse around, you might notice various up and down arrows. These arrows allow you to control the order of things, which lets you customize these templates.
You'll notice when you try to use some of these features that they switch off at random. Different editing elements on the page builder can be too close to each other. You might unintentionally be switching different elements of the page.
Adding new sections

The sections tab, found is the first of the landing page editors that allows you to add new things. Sections contain different webpage elements, which allow you to divide into different rows or columns.
Clicking on "manage" will let you see existing sections. Using this, you can move the order, copy, delete, and hide.
Clicking "add section" will let you add new sections of varying widths. You can also choose to add sections based on desired actions (fill in this form) or different content types.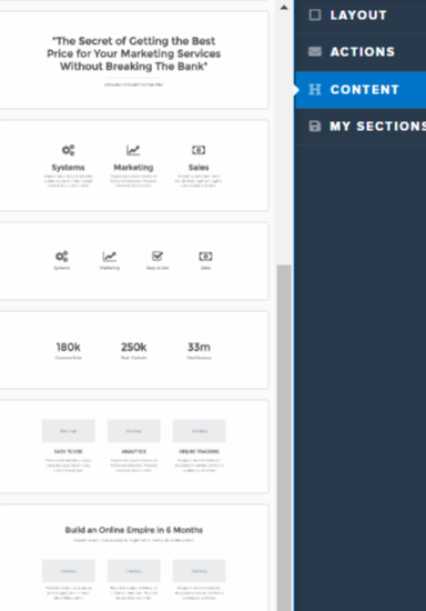 The next section, rows, is incredibly similar to this. The only difference being that you can split these sections by columns. So, for example, if you want four different text boxes with four different headings and short descriptions underneath them, you can do that.
Columns, by extension, breaks this down a bit further. They nearly the bottom-most layer, acting as the containers for these rows.
Adding elements to your page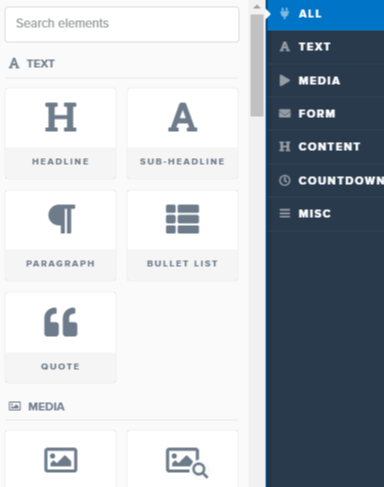 The elements are the meat of your page, holding the paragraphs, headings, videos, bullets, buttons, and forms. When adding something new to your page, you'll likely be using this section above all.
There are six different sections worth noting:
Text – this includes all of your text elements such as headers, bullets, or quotes
Media – images, videos, and audio
Form – Includes all entry requests that include buttons, text areas, checkboxes. You can also ask for SMS signups, surveys, and shipping information using the advanced form tools.
Content blocks – Includes image lists, FAQs, navigation elements, and a pricing table. You can even get a progress bar to show how far people have gotten through your offer.
Misc – Social shares, privacy notices, Facebook comments, and custom html entries
There are many elements you can enter to complete your sales funnels or email marketing strategy. You'll find the number of elements available to fit almost any sales process, whether you intend this page to gather emails or make sales.
Honestly speaking, the structure and amount of editing you get fits the perfect mix of power and ease of use. With landing page software, you run the risk of having too much or too little. ClickFunnels offers a pretty good combination of both.
Adding a pop-up using the landing page builder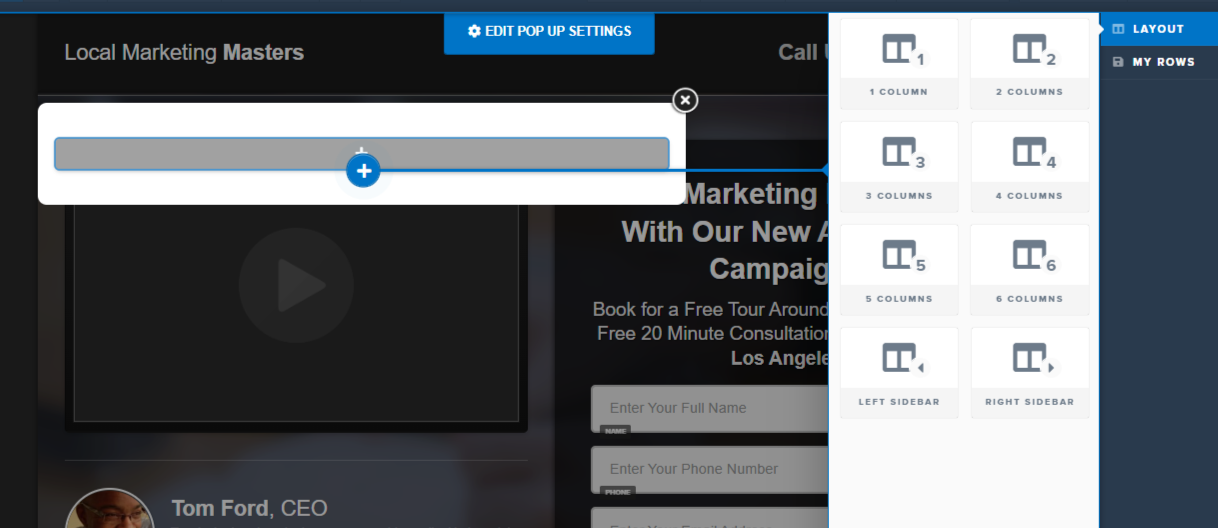 One online marketing tool you can use through ClickFunnels is the popup. Similar to designing a page, it starts by adding different sections through rows and columns. You can start by clicking "pop up" in the upper-left corner.
Once you add those columns and rows, you can go back and click the "add element" button. So, this makes it no different from using the ClickFunnels page building tool. The only difference here is that you are working with it on a smaller scale.
Different settings of the page editor tool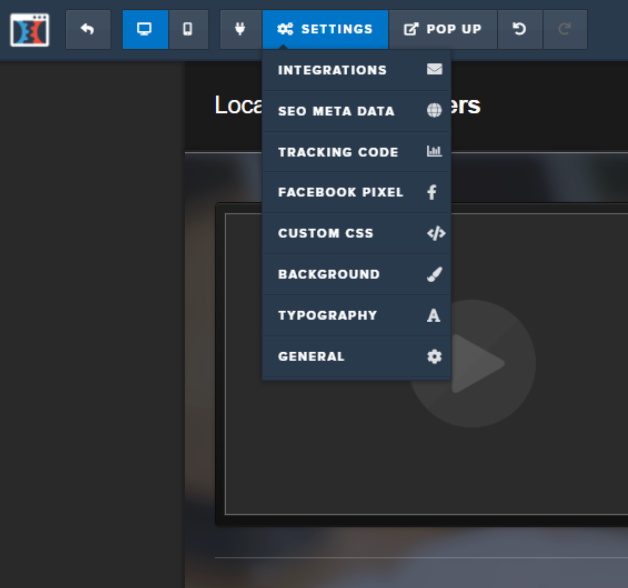 The last section of the ClickFunnels editing page is the settings, which provide many different services to help with your online marketing. Below is a quick roundup of those sections:
SEO meta data – Allows you to change the title, meta description, keywords, author, and social image (for sharing)
Tracking code – allows you to add in an HTML code for tracking traffic data (such as through Google Analytics)
Facebook Pixel – lets you track through the Facebook Pixel ad platform.
Custom CSS – for modifying HTML data
Background – lets you edit the background for the entire page (not just a single section or row). You can even put a video background
Typography – allows you to edit simple font details of the entire
General – miscellaneous changes such as whether the submit button goes to a particular page, whether it shows on a search engine, or whether viewers see an affiliate badge (if you want to make commission on others getting ClickFunnels)
The first settings section, integrations, deserves its own mention.
ClickFunnels Integrations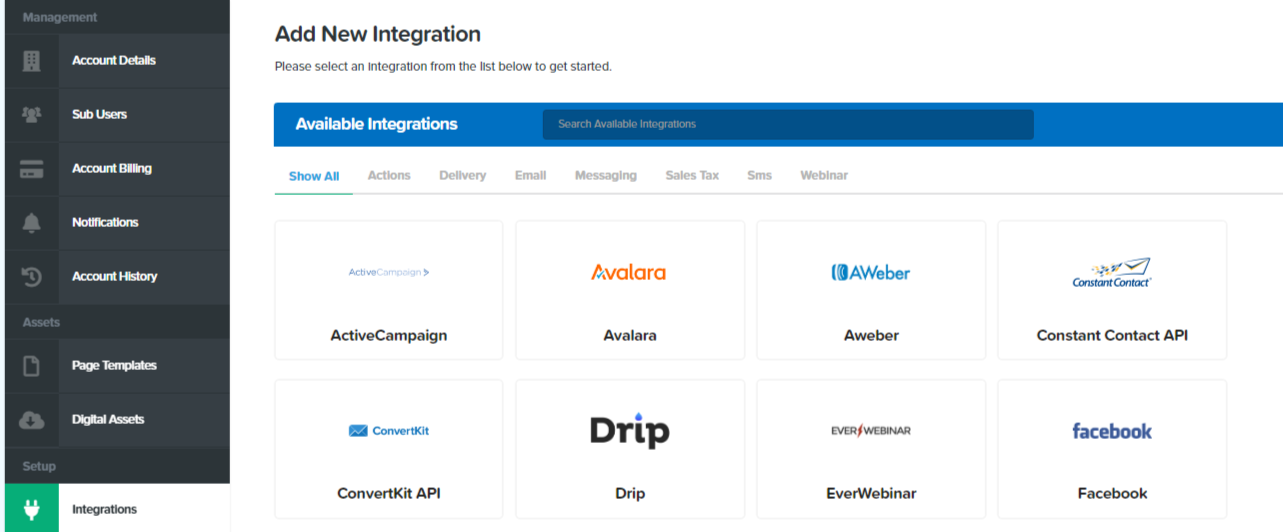 The most notable is integration with popular email auto responders. These email marketing tools allow you establish automatic email chains. Meanwhile, you can continue using ClickFunnels as your means for lead generation and managing sales.
Here are some of the more popular integrations:
Facebook
Constant Contact API
GetResponse
GoToWebinar
HubSpot
MailChimp
Kajabi
Shopify
Salesforce
Twilio SMS
ZenDirect
Zoom
In order to see these integrations under the settings link on the page builder, you'll need to go to your account settings. From there, click "integrations" and select "add new integration" from the upper-left corner, then you will see those integrations on your list.
What to know before publishing your funnel
Once you finishing with the design and editing of your series of pages, publishing your funnel is pretty easy. Going back to our email list example from earlier, the system will automatically add the data you request to the ClickFunnels system, which you can find under "Contacts."

If making a sale, you'll instead see another tab under "sales," which will count the number of times people have used your included payment gateways. If you don't have a gateway, this section will remain blank.
If you do take payments through ClickFunnels, note that they have a 4.9% transaction fee. This is a bit more than other companies (Stripe averages at about 3%), so keep this in mind when taking payments through them.
Finally, the general "stats" section lets you track the overall results of your funnels. This can give you valuable data on whether your funnel is working. Using the A/B split testing feature from earlier can help you identify the need for change.
ClickFunnels automation features

When you build a marketing funnel with ClickFunnels, automation will be your friend. After all, if you can generate leads without having to interact with your software all the time, it reduces your workload and helps you earn some real money.
ClickFunnels automation features allow you to create actions, automatically respond with emails, and send SMS messages. The third option, SMS sending, requires you to integrate your platform with Twilo SMS, which will require you to pay for another service.
ClickFunnel's email automation requires you to have an active domain and email server. You can choose to purchase a domain through the ClickFunnels website as well, allowing for immediate integration and an SMTP email.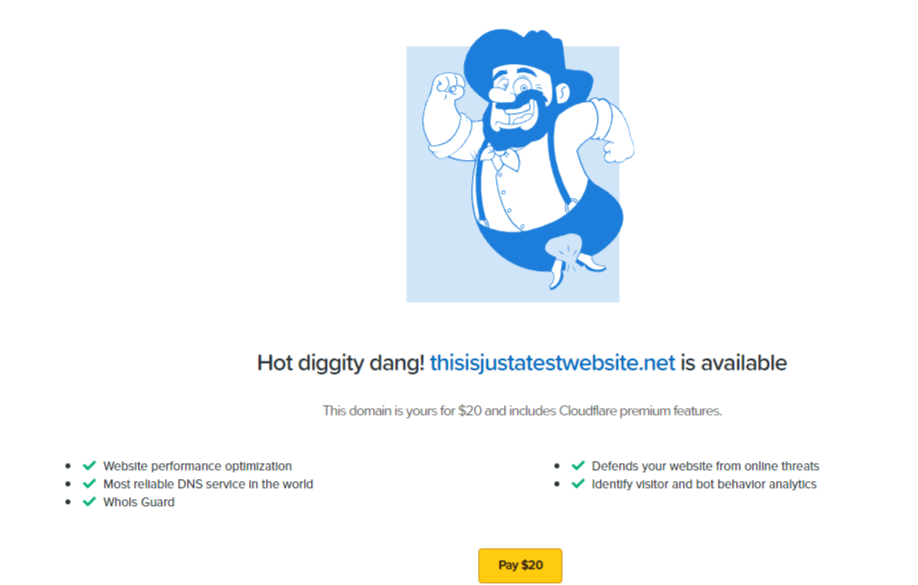 Alternatively, if you already have a website and another email server, you can choose to bring in your current domain. Under the starter plan, ClickFunnels can handle a maximum of three domains.
The publish tab – sharing your published funnel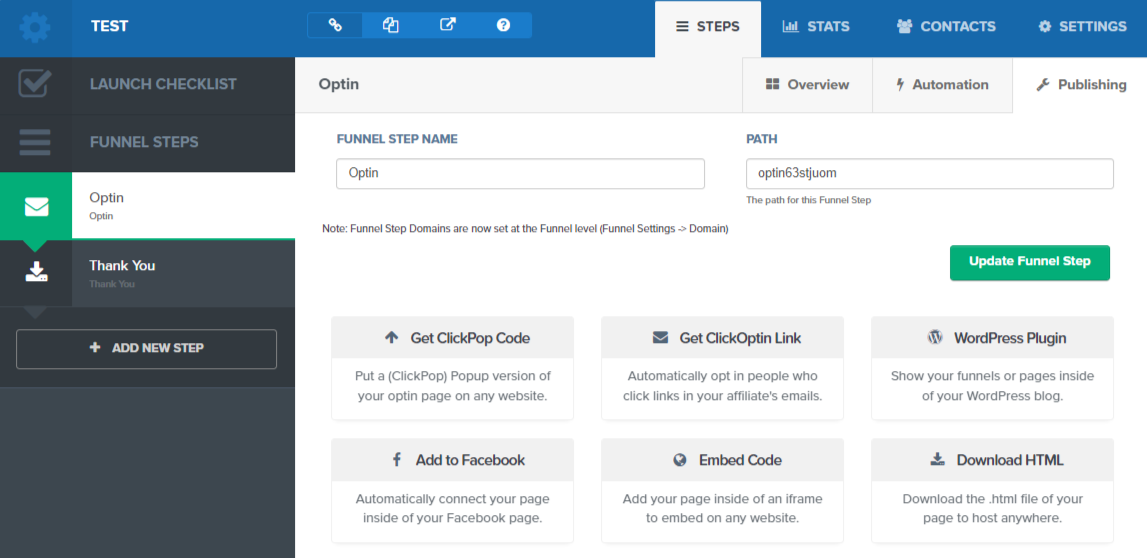 The last tab deals with the publishing settings. At this point, if you've done all the steps on the left, you'll have a publicly available website. Clicking the "visit funnel URL" link on the top will show this to you.
You'll also notice a few other interesting elements on where to add these funnels. Here's where you can publish them:
Get ClickPop code – Allows you to generate a code that transform these pages into a pop-up.
Get ClickOptin link – Automatically opts people in who click your links to your affiliate's emails.
WordPress plugin – A plugin that connects your funnels to your WordPress website.
Add to Facebook – Allows you to connect and publish your funnel to your Facebook page.
Embed code – You can paste your marketing or sales funnels into an iframe on any website
Download HTML – Gives you an HTML file that you can paste outside of iframe elements.
Text optins – Sends a text to the phone they entered to get them subscribed to your email list.
ClickFunnels Review on building landing pages – summary
Reviewing the features from above tells us that the overall design features behind ClickFunnels are powerful. The ClickFunnels software is simple and powerful, making it incredibly easy to use.
ClickFunnels has a few unusual design quirks. For one, a few of the controls are a bit close to each other. Plus, if you come from HubSpot of Sendinblue's landing page builder, there is a mall learning curve when it comes to understanding the design. However, a few hours with the software will let you overcome these bumps in the road.
The gripe you'll hear about it most commonly is that its too simple. However, this software is built for people who aren't technically minded. If you are looking for software that provides more technical accessibility, check out InstaPage.
Because ClickFunnels goes behind being a builder of pages, the remainder of this article will delve into some additional tools. ClickFunnels does provide an all-in-one solution for building marketing funnels. To find out more about the full package, keep reading below.
Building follow-up funnels

Follow-up funnels are limited only to platinum users. Much like the automation section from above, these are built to send follow-ups to those on your email list. The difference being that those follow-ups involve building new sales funnels.
Much like the standard funnel building tools, you create multiple steps for someone to go through. The difference between follow-up funnels and the other automation settings is that it goes beyond sending an email or follow-up text.
This system also automatically integrates with your third-party applications. For example, if the customer decides not to buy, you can tailor a personalized ad to them asking them for their feedback.
Most times, you can choose to add or remove people from third third-party contact lists. There are also several webinar platforms here, allowing you to sign people up automatically (which is something the standard platform doesn't do).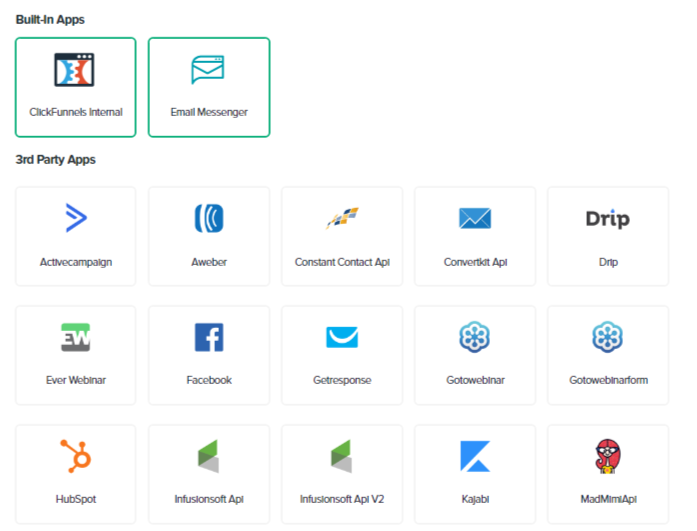 The system also allows you to easily broadcast an action to everyone in a group. For example, if you want to automatically add everyone to a new email list (like if you are switching between two platforms ClickFunnels integrates with), you can.
In cases where you get a huge number of submissions and don't want to go through them, this can save you time and money. Whether its worth another $200 a month depends on how much money you make from this process.
The ClickFunnels Backpack – creating your own affiliate program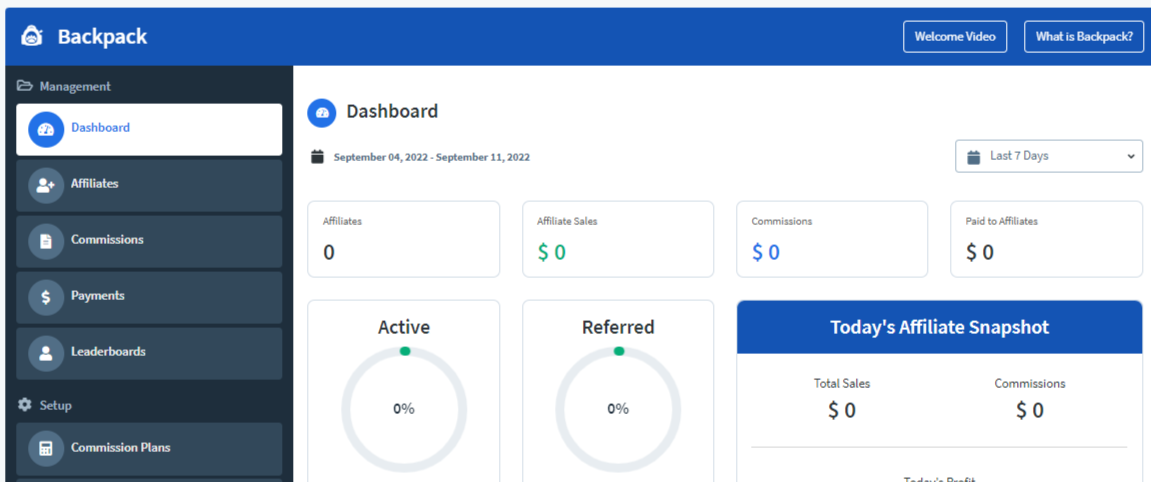 The ClickFunnels backpack is a way for you to create your own unique affiliate marketing program. In this way, you can hire affiliates through ClickFunnels easily, only paying out commission when they make a sale.
Ideally, Backpack can be an incredibly handy feature if you already have a fully developed product or service. As another form of revenue, it can be pretty handy to use. Just be sure you have the service staff ready to meet those new requests.
The affiliate part of the site is the most likely to have issues based on our time using the marketing software. Later, we will see how their customer service holds up from a user perspective.
The ClickFunnels Marketplace
An optional feature that comes with access to the ClickFunnels tool is the marketplace. The marketplace offers two major features:
A series of downloadable funnel templates if you like another person's design
You can hire consultants directly off of the ClickFunnels platform
Given the number of free funnel templates available in the editor, you don't need these. However, there are many funnels on this list that you need to pay for.
The funnels are broken down into different categories as well. For example, you can make webinar funnels to sell your online courses, downloading templates built around video.
With enough effort, you can recreate a lot of the templates here using the editor. In fact, you can also sell the templates you build if you have a talent at design.
Next, we can change gears and look at their consultants. Much like with the templates, you can sort through them depending on where they live, their location, and what skills they have.
These consultants aren't just limited to knowing how how to use ClickFunnels. In fact, most of them work to supplement knowledge outside of creating your sales page.
With this in mind, you can consider them a paid generalist support team. Given this isn't an included part of the package, we won't be delving any further into the topic. Still, it is an interesting part of the whole platform.
ClickFunnels review of educational resources
There are three different educational resources you can use through your ClickFunnels subscription:
FunnelFlix
ClickFunnels Academy
The ClickFunnels knowledge base
Below, you'll find out more about all three.
FunnelFlix – The Netflix of learning about funnels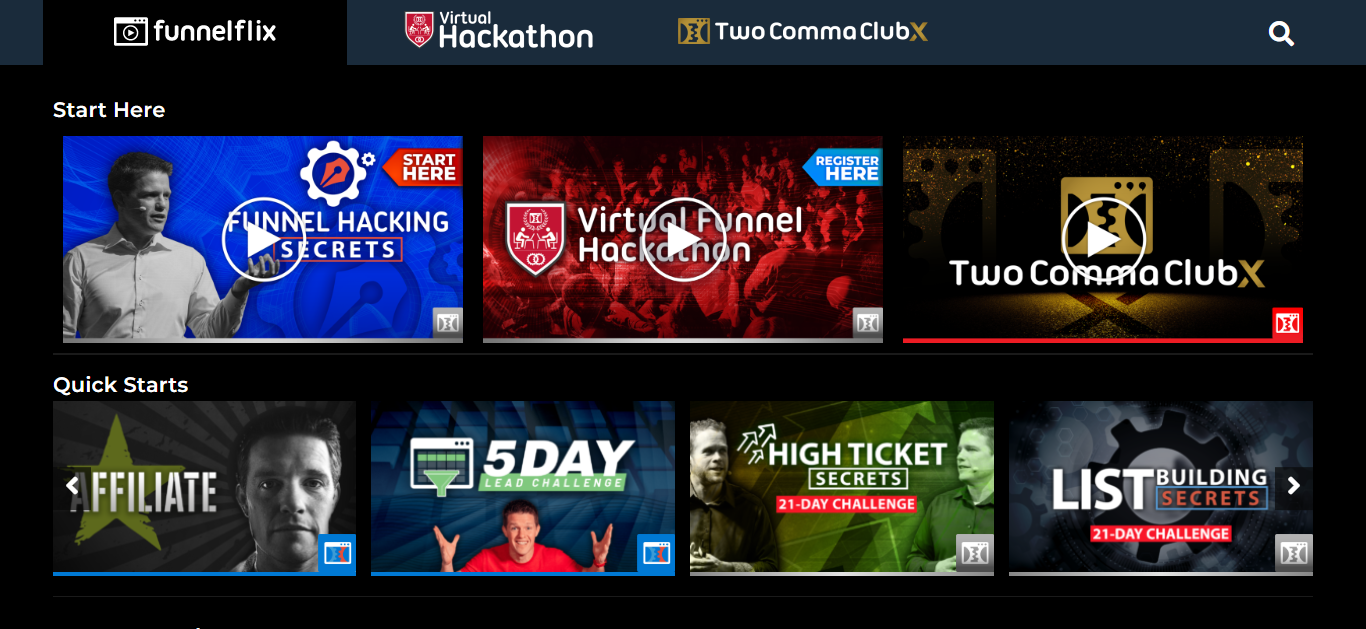 Russell Brunson built FunnelFlix to be the Netflix of funnels. Given the inspired name and dashboard, it doesn't take long to see the connection.
For some reason, the designers of this site thought it was a good idea to keep everything in motion. This is done so you can see everything, but can get kind of annoying if you want to look at a single area.
There's some value here, and not all of it is built around the ClickFunnels tool. For example, you can find some good general advice from names like Dan Kennedy on copywriting. You can also take some tips and apply them to other landing page builders if you want.
The only thing you don't get under the starter plan is access to live Hackathons. These are training that ClickFunnels Platinum members get twice a day, seeing how others build funnels and different improvements.
ClickFunnels Academy
ClickFunnels is a free resource that allows you to learn about the software. It's self guided, meaning there's no instructor on the other side. Unlike FunnelFlix, you'll also find its text driven, making it an alternative to the video-based content.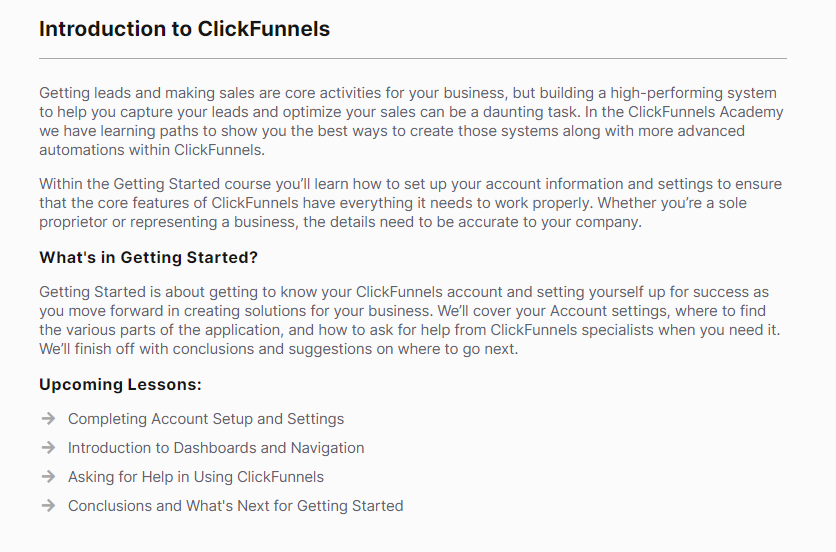 It's great to see that ClickFunnels supports numerous learning styles. Personally, I'm a bigger fan of the more dynamic video-based content. But you might learn differently, and that's okay.
ClickFunnels knowledge base
The knowledge base, similar to the academy, provides flat information on how to use the system. It's broken down into the usage of various systems, which is fairly easy to use. The base is also just as easy to read.
Despite some of the value hiding behind a firm reminder about Russel's advertisement style, there is a lot of educational content here. Russell Brunson is a firm believer in overdelivering, and you can see this by checking out this educational content.
ClickFunnels Review – What do other users say about their customer service?
With a short search, it reveals that ClickFunnels is beloved by most who take the time to review it. Both TrustPilot and G2 have matching results, providing a 4.7 out of 5 on both platforms.

Most people say their favorite part is the wide range of customization. From using the software, we would agree, it is a handy tool for easily swapping at first. Some new customers find themselves intimidated by this software.
A few of the more common complaints come down to the cost of the software. On average, you'll end up paying $97 per month. Compared to other page building software systems, this can get pretty pricey.
What does Reddit have to say about ClickFunnels?
Reddit has no stake in the matter, giving us a good, unbiased source of user experiences. Overall, giving all the positive press, it's important to take a look at those who are more critical of the platform.
It's difficult to find people willing to be critical because of how they market the product. This Reddit user makes that point clear:

ClickFunnels likes to advertise itself as the last stop for your marketing tools. It seems like everyone agrees with them because they get a cut of your monthly payments.
Affiliate marketers are often nervous about criticizing a platform. After all, if the reader finds any reason not to buy it, they might not, which cuts into the marketer's bottom line. Because most of the users take advantage of the affiliate program, you won't find a lot of negativity about it.
This Reddit user puts it in a good way:

When building landing pages, there's no magical tool that will make you rich overnight. ClickFunnels does have an easy-to-use tool and a compelling software. However, there are also other landing pages.
FAQs (Frequently Asked Questions)
While ClickFunnels doesn't advertise this, hosting is part of its platform. Each site is automatically up and ready to go when you complete your funnel development. However, you'll need to pay for a custom domain separately.
ClickFunnels integrates with Amazon through Zapier, meaning its indirect. However, you can use ClickFunnels to sell your Amazon products. So with a few extra steps, yes, you can integrate the two platforms.
For pure sales, funnels can be far more effective than websites. However, in providing a full digital service or information, you still need a website. After all, the ClickFunnels website might sell using their tool, but their main website is not built on funnels.
Wrap Up – is the ClickFunnels hype right?
After an in-depth dive behind what ClickFunnels offers, is it worth the hype? Short answer: yes and no.
Will ClickFunnels go as far as to fix your marriage and cook you a steak dinner? Probably not, although the advertising might make you think otherwise. That being said, they wouldn't be using this advertising method if it didn't work.
From a user's perspective, ClickFunnels justifies its price through convenience. Instead of being a pure landing page platform, it covers a wide range of marketing duties.
This includes creating a list of customers, making sales, and building your email list. Although you'll need a third-party tool for email marketing, you can still make money without needing too many other things.
That being said, you can save yourself quite a bit of money by checking out other tools. Sendinblue, for example, allows you to use their automated platform for half the price. However, the prices get somewhat comparable as you build more monthly contacts.
Other tools also don't allow you to process payments through them (or rely on third parties). So what makes ClickFunnels useful is its ability to provide an all-in-one platform.