Having a landing page is like hiring a salesperson that is available 24/7. They don't need to eat, or sleep, or (usually) get paid nearly as much. However, you need a great landing page builder to make sales.
In our review, we are going to look at one of the biggest names in digital marketing: HubSpot. Specifically, we will look at HubSpot's landing page building software and whether it helps you make pages that drive sales.
What is HubSpot?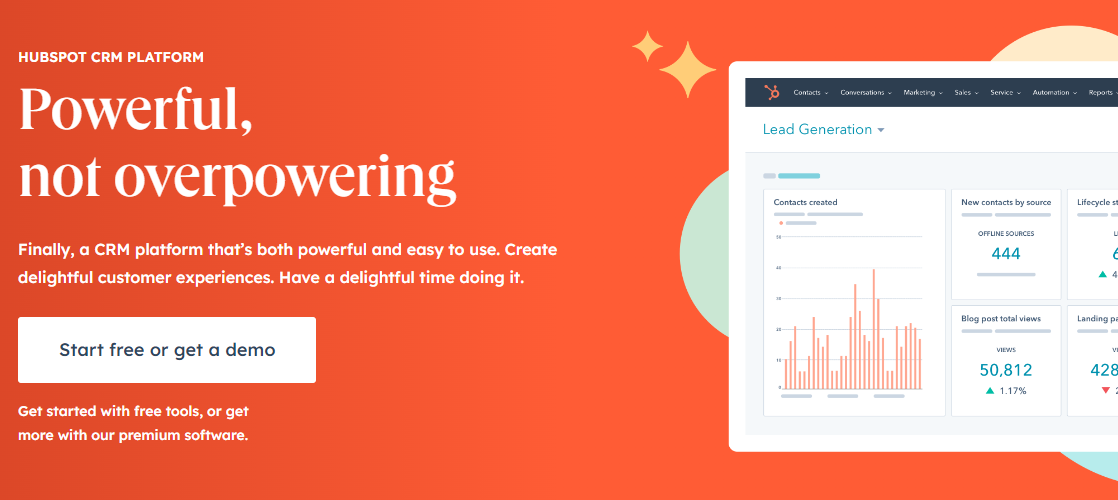 HubSpot is an all-in-one growth tool for companies who like to focus on inbound marketing. HubSpot offers a lot of different software on one platform. These include marketing, sales, CRM, customer service, and (of course) landing page building tools.
HubSpot has been around since 2005, focusing on providing value-driven content to its consumers. Its HubSpot Academy is one example of how it leverages inbound marketing. For many who enter the industry, HubSpot is a starting point that marketers use.
It also provides you with access to many free tools to sweeten the deal.
Who is HubSpot's landing page software best for?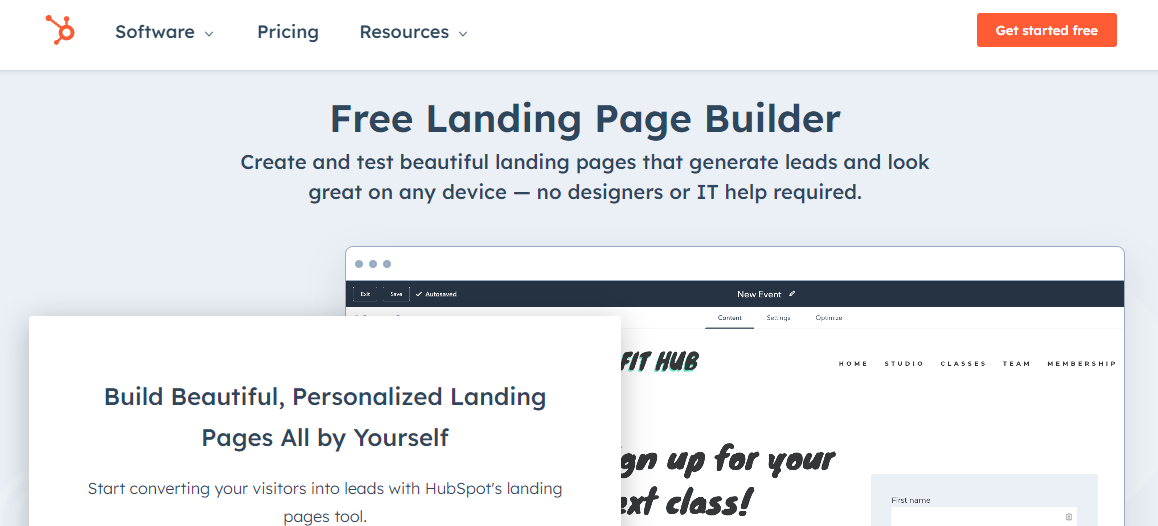 HubSpot is a scalable platform, making it ideal for everyone from entry-level businesses to enterprise clients. The software suite starts off as free, making it an ideal way to learn the ropes. You can get full access to most builder features without paying, but deciding to pay lets you remove HubSpot's branding.
However, one thing that HubSpot does differently from other businesses is its notable price spikes. Between the starter and professional suites, it goes from $27 to $1,600 per month quick. However, HubSpot's latest pricing update lets you better select the tools you are looking for.
HubSpot landing page builder – pricing

HubSpot's landing page tools are part of their Marketing Hub plan. This plan comes in one of three forms:
Starter – $18 per month
Professional – $800 per month
Enterprise – $3,600 per month
These rates assume you pay for the entire year upfront, with a small mark-up if you decide on monthly payments. Either way, you are married to HubSpot for an entire year.
Alternatively, you can choose to pay for the entire CRM suite, which includes HubSpot's full set of features. These include sales tools, customer service tools, content management systems, and an operations hub. Because this review is about the landing page builder, we won't go too far into these.
If your only goal is to build landing pages, you do not need to pay for any plans. If you are fine with the HubSpot CRM branding, you won't need to pay anything. However, paying for it allows you to remove the branding, which is often necessary as your business grows.
HubSpot also allows you to build an entire website behind the landing page. If you choose to do this, getting the CMS Hub Starter plan can double your website pages (from 25 to 50).
If you need nothing beyond a landing page, the marketing plan will be fine. Either way, you get up to 25 landing pages. The only way to get more landing pages (up to ten thousand) is by paying for an enterprise or professional plan.
What they include with the free landing page builder
HubSpot's free landing page builder receives the full set of complete customizations. This means that the landing page builder you get for free is the same one you get when paying $5 thousand per month. In fact, the only thing you get when paying is branding removal.
Here is a roundup of features you get by paying nothing:
Simple landing page analytics
Drag-and-drop editing features
Over 200 landing page templates
Over 500 HubSpot integrations
Can pay for web hosting
Option to purchase custom domain
On paper, HubSpot's builder has a lot of exceptional features. However, whether it's worth free (or an eventual $18 to $27 a month) depends on our review.
HubSpot Landing Page Builder features review
Below, we will go through creating our own landing page. Based on our experience and how easy it is to use, you'll find out how simple the system is.
Starting with the HubSpot landing page builder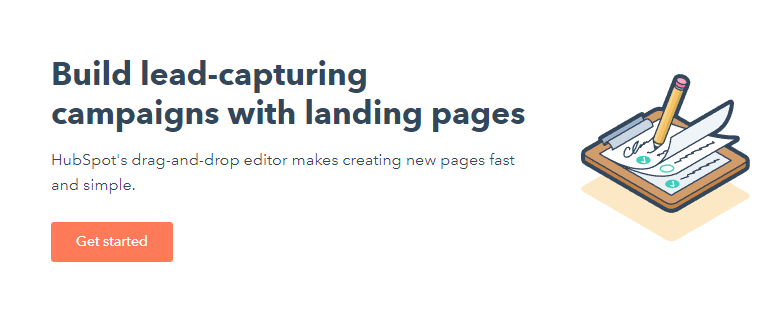 With a blank page and an orange "get started" button, it doesn't get much easier to start. This is assuming you've already made a HubSpot account, which you can do simply by having an existing Google account. Otherwise, start by signing up and entering some basic information.
Once you start, HubSpot will give you two text boxes for the website and page name. Clicking "create page" will help you get started.
To start HubSpot will allow you to select from various starter templates. These templates will change depending on your goals.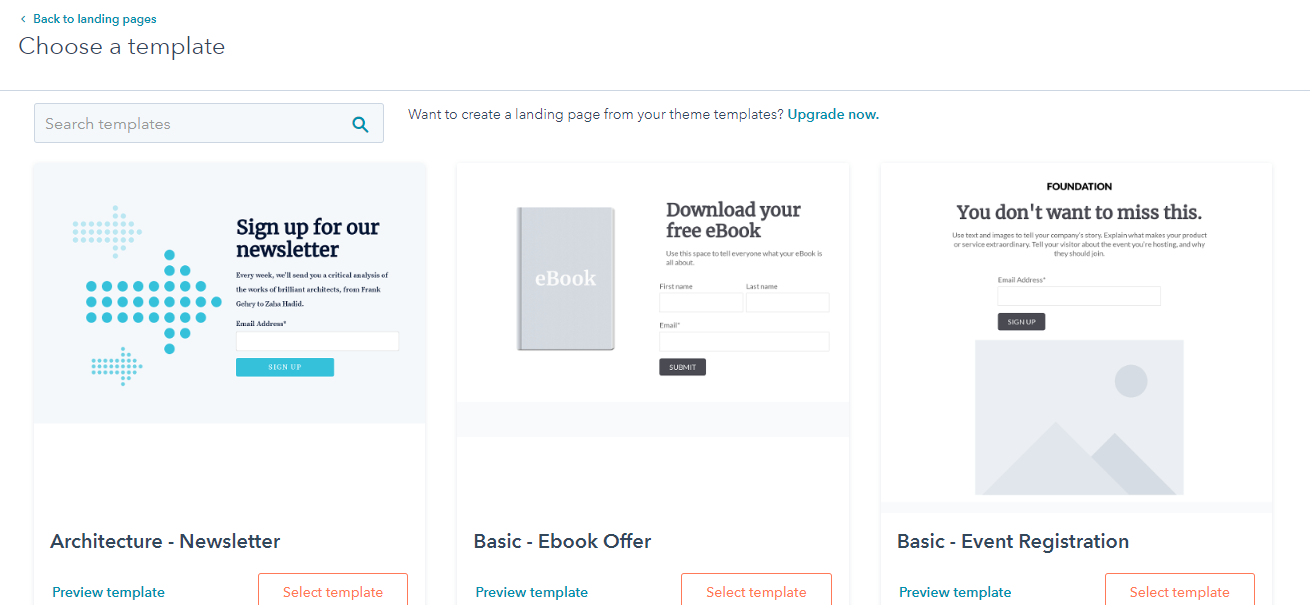 For our page, let's assume we want to build something to help us sell eBooks. So by clicking "select template" below the basic eBook template, we can get started.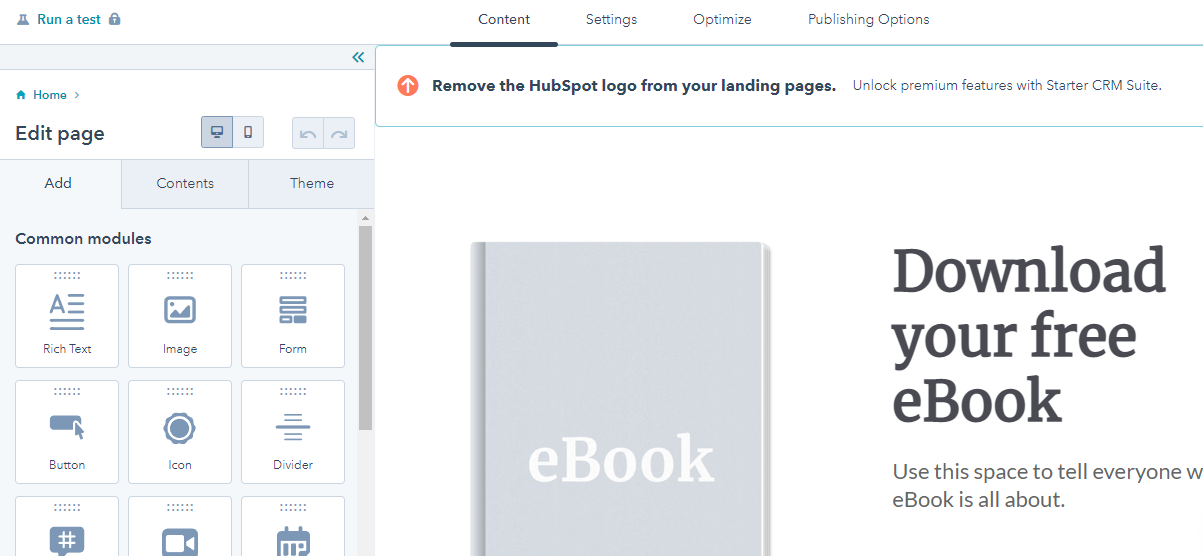 Those of you who saw our Sendinblue review might get a few flashbacks. You'll find that the HubSpot drag-and-drop editor is incredibly similar to Sendinblue's email and landing page editor.
Exploring HubSpot drag-and-drop landing page builder
The left half of the landing page builder has three different editing tabs: "add," "contents," and "theme." Just above these tabs, you'll be able to switch between mobile and desktop views.
To the right of those buttons are your standard undo and redo buttons. For a full-screen view, you can click the double-arrow on the upper right of the left-hand frame.

Under the "add" tab, you'll find a series of common modules. These modules include text, images, forms, icons, and social media following buttons. You also can set up your landing page for videos or meetings, which are fairly unique in some free builders.
If you are working with a free account, you'll notice that the payment module is unavailable. This is because if you want to accept payments through your landing pages with HubSpot, you'll need to pay for the CRM Suite, one aspect of the HubSpot CRM platform.
Also, receiving payments is limited to those based out of the United States.
Adding and editing modules on your landing pages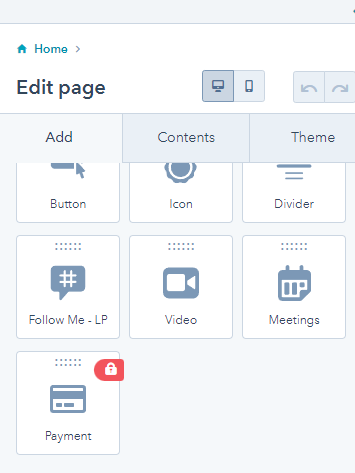 If you want to add new modules to your landing pages, all you need to do is click and hold on your module and drag it into an available slot. A line will appear showing you where to place the page.

In our case, we might want to explain why the eBook is a compelling buy through more text below. By selecting the text box, you also see a new section above the editor giving you options to add to the text.
The rich text editor also allows you to add images, icons, horizontal lines, bulleted lists, and anchors. The anchors are incredibly useful, as they allow you to interlink between different sections of your landing page. So, if you are a fan of long-form copy, HubSpot's landing page builder can support that.
Customizing individual modules
Outside of the text editor you just saw, customizing the aspects of these modules is also fairly easy. Much like other editors for landing pages, all you need to do is click them once and watch as the left half of the screen changes.

From this page, you can adjust things like the alt text, image, size, and image loading settings (lazy means faster pages). You can also choose whether the image links to a location.
Most of these are pretty obvious, but the Meetings module will require you to make use of the HubSpot meeting tools. As part of HubSpot's marketing sales CRM, it's an exceptional tool that you can start using for free, but requires you to pay as you grow your business.
What if you want to add custom modules?
One weakness of the tool is that creating custom modules requires you to have coding knowledge. Those who know HTML, CSS, and HubL will have no problems here. Because most business owners don't have those skills, so you'll need to hire a designer.
Using the contents tab of HubSpot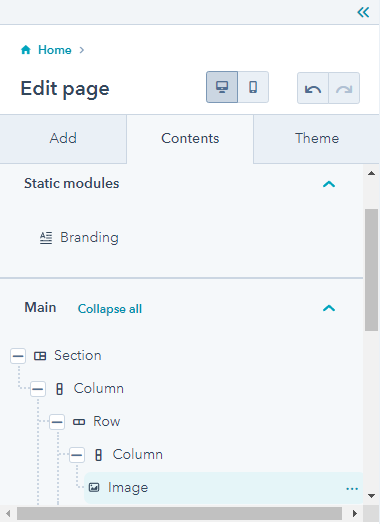 The contents tab allows you to see the order of your landing page builder. This way, you can change elements of different sections and move modules to different areas.
For example, if you want the "download your free eBook" message to appear like a title, you'd move it up. You can do this by using the drag-and-drop editor to move it to the top. This creates a new section, as you can see in this image:

If you move your mouse along the right of these sections, you'll see a three-dots menu. By clicking this menu, you can set default style settings. These include margin widths and background colors.
Selecting a theme for your landing pages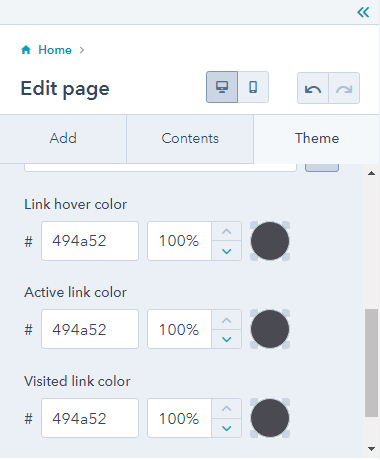 The theme allows you to set overall design choices for your landing pages. With these, you can change things like the typography and the general design of forms and buttons.
Example changes might be a preference for link colors or certain fonts for your titles. You can also choose a specific button corner radius (to make rounded buttons).
Given that this tab only has two changes, there could be room for something more here. However, it isn't what you would call a total waste of space, as it still has a use.
With this in mind, you make some professional-looking landing pages using HubSpot's free design tools. As a tool for simple lead generation, it's great for simple design.
Below, we will explore some of the other advanced features behind this landing page builder.
The settings tab of your landing page builder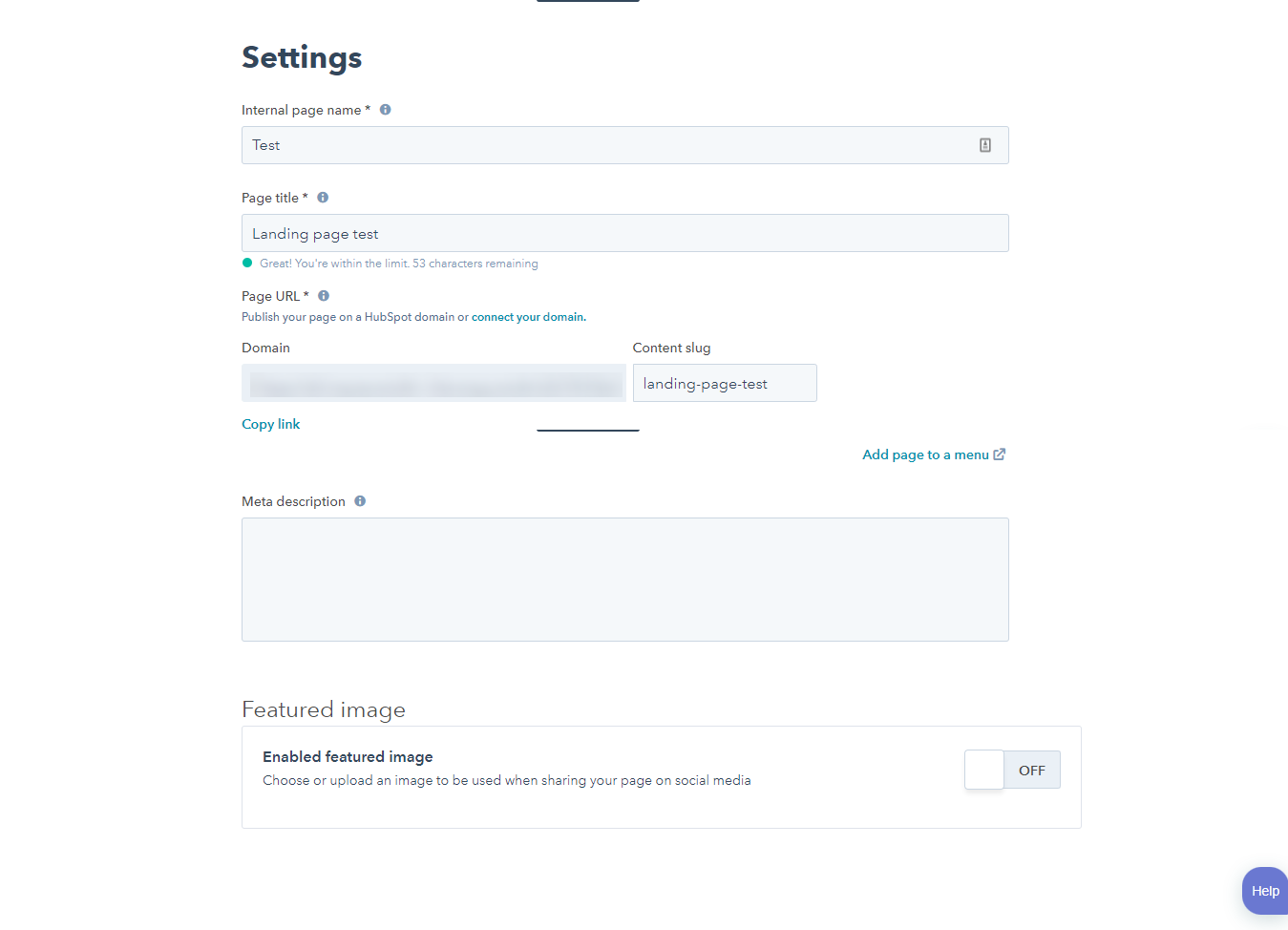 Under settings, you can adjust five different aspects:
The name of the internal page. The title you see of the landing page that lets you identify it from other pages.
Page title. The title visitors to your landing page will see.
Page URL. Where you can set a custom domain). You can also put in an URL to hit a specific content slug.
The meta description. A description for the page which most people see if searching on Google for it.
Featured image. What image shows when people share the page on social media.
None of these settings are too over the top, but are necessary to make a complete page. When uploading a new landing page or website, these are necessary parts of your site.
Optimize your landing page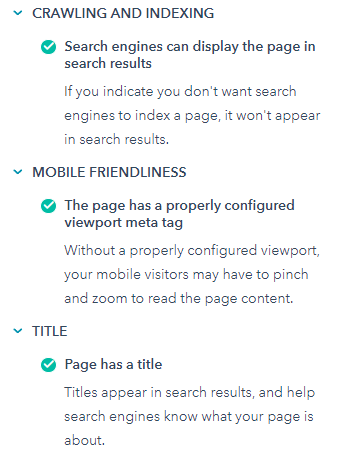 The optimize section on HubSpot's landing page builder is limited. It provides you with some good general advice on what you need to do before publishing any landing pages.
Here's what you should know about how this section reads:
Crawling and indexing. Shows the page can be seen and searched for on Google.
Mobile friendliness. Makes sure people can see your page on mobile devices.
Title. The tool requests that the title and domain are unique and under 70 characters for the best user experience.
Images. These should have alt text to describe what the images are for Google and accessibility reasons.
Meta description. Advises that meta descriptions should be 155 characters (or fewer) and be unique from the title.
Header. Advises that your page should have only one H1 tag.
Links. Advises that your page should have fewer than 300 outbound links.
HubSpot likes to keep things simple in this tab, much like the settings. Given that it has its own section, this feels somewhat limited.
Publishing your designed landing page

The final tab, publish, allows you to schedule a future date for publishing or publish the content now. You can also choose to schedule a future date for un-publishing, which is handy if you want to advertise a limited-time deal.
If you want to test it out before publishing, click the preview button in the upper-right. This way, you can test out the page before releasing it. Thankfully, you can take it down whenever you want.
The upper-left corner shows you can run a test, which is HubSpot's tool for A/B testing. Despite how useful that would be, HubSpot hides this feature behind its professional plan, which typically costs about $800 per month.
FAQs (Frequently Asked Questions)
Some of the key features of HubSpot's landing page builder include a drag-and-drop editor, customizable templates and modules, mobile-friendly design, A/B testing, and integration with various third-party tools and services.
Some potential disadvantages of HubSpot include its high cost, which may be prohibitive for small businesses or startups. Additionally, some users may find the platform to be overly complex or difficult to navigate, particularly when it comes to configuring custom workflows and integrations. Finally, while HubSpot offers a wide range of features and tools, some users may find that it doesn't offer the same level of flexibility or customization as other marketing automation platforms.
Wrap up – is the HubSpot Landing Page Builder Worth It?
As a simple and free tool to generate leads and boost conversion rates, HubSpot's landing page builder is pretty handy. It's simple and easy to use, making it ideal for a lot of needs. But there's a reason that it's not one of HubSpot's most popular features.
There are other, more powerful landing page builders out there. Much of this comes from the HubSpot landing page tool being one of many things HubSpot offers. Instead, what makes HubSpot worth it is the overall marketing package.
So, if you plan on using all of HubSpot's features, it's worth paying for the starter plan. If you plan only using it for a quick builder of landing pages (and don't mind the branding), the free version is worth it. But if you want to opt in for professional plans, you need to be an extensive business making a lot of money.